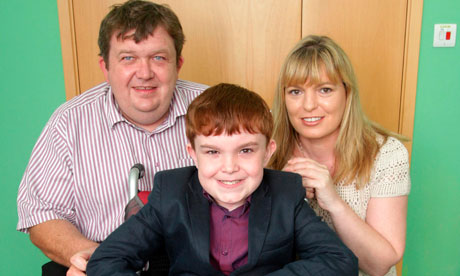 Ciaran Finn-Lynch, who became the first child in the world to undergo a groundbreaking trachea transplant in March this year, is set to return home to Northern Ireland.
Ciaran underwent the transplant, which involved the removal of his own trachea replaced by a donor windpipe, at Great Ormond Street Hospital. Doctors then used Ciaran's own stem cells from inside his body to build up the donor windpipe and ensure the organ was not rejected.
Four weeks ago, doctors were able to describe the transplant as a success for the first time after proving vascular supply had returned to the trachea.
Colleen and Paul, Ciaran's parents, said: "We cannot thank all the staff involved in Ciaran's transplant enough. When they initially suggested the procedure we agreed to it, knowing it would be the first time it had been tried in a child, as we have 100 per cent faith in them and the work they do. They were the best people in the world to treat our son.
"Ciaran has undergone some major operations in his life, even prior to this transplant in March. He is resilient and has kept his spirits up throughout. Two weeks ago he had a music lesson while he was on the intensive care unit, he played on the drums and he absolutely loved it. Ciaran's spirit has never waned.
"We are obviously also incredibly grateful and indebted to Ciaran's donor and are aware of the heartbreak that family went through in losing someone. They have displayed courage and selflessness and we would like to use this opportunity to urge people to think about signing up to the organ donor register."
Ciaran's transplant team was led by Professor Martin Elliott of Great Ormond Street Hospital, and comprised Professor Paolo Macchiarini, Careggi University Hospital, Florence, Professor Martin Birchall, Professor of Laryngology, University College London, and Dr Mark Lowdell, Royal Free Hospital.
Ciaran's story
Colleen experienced no difficulties during pregnancy that might have suggested all would not be well once Ciaran was born in July 1999.
On the day he was born, Ciaran's lungs collapsed and he was rushed to the neonatal intensive care unit at Great Ormond Street Hospital. Ciaran was diagnosed with Long Segment Tracheal Stenosis, a condition which leaves sufferers with a very narrow windpipe, making breathing incredibly difficult.
Ciaran was placed on ECMO, a heart and lung machine, and aged six days he underwent major surgery to reconstruct his airways. He remained ventilated on intensive care for a further four months before being able to leave hospital.
When Ciaran was two and a half, a metal stent used to hold his airway open eroded into his aorta, causing airway bleeding. As a result he underwent further major surgery that involved replacing the damaged part of his trachea with part of a donor trachea. This surgery was complicated by a severe infection involving the trachea, and he underwent a further major operation to reconstruct his airway. He was finally able to leave hospital after eight months.
Ciaran lived a full and active life at home in Northern Ireland, able to do most of the same things as his peers, until November 2009 when a metal stent began to erode into his aorta, again causing a very severe bleed.
Ciaran underwent the pioneering transplant at Great Ormond Street Hospital in March this year, just four weeks after a donor trachea was found in Italy. The donor organ was combined with Ciaran's own stem cells at the Royal Free Hospital, and couriered to Great Ormond Street Hospital. This procedure was Ciaran's only option due to the major operations he had undergone previously.
After a long period of recovery in hospital, doctors have been able to prove Ciaran's stem cells are working and vascular function has returned to his trachea. Colleen & Paul describe Ciaran's recovery period as a 'rollercoaster', but are pleased they will finally be able to return home.
from http://www.ich.ucl.ac.uk/pressoffice/pressrelease_00851
SURGEONS hope the groundbreaking surgery carried out on 11-year-old Ciaran Finn-Lynch will lead to a revolution in regenerative medicine.
It marked a huge step forward from pioneering surgery in Spain two years ago on 30-year-old mother-of-two Claudia Castillo, the first person to receive a transplant organ created from stem cells.
Ms Castillo was given a section of tracheal airway rebuilt from stem cells, although doctors grew the new tissue outside her body in a special "bioreactor" and then transplanted it into her body.
In Ciaran's case, his own body was used as a "living bioreactor".
Stem cell pioneer Professor Paolo Macchiarini carried out the living bioreactor stem cell procedure for the first time on a 53-year-old Italian woman, replacing part of her windpipe.
He was then contacted by British doctors looking for a last-ditch solution after Ciaran's condition deteriorated last November.
In February, Prof Macchiarini's team selected a dead donor — a 30-year-old Italian woman — from a shortlist of three.
They removed her trachea and stripped its cells using digestive enzymes, leaving just inert collagen and the basal membrane, as a scaffold for the cell growth.
On the day of the operation in March, Prof Macchiarini "seeded" the trachea with the stem cells and applied growth factor chemicals to help it form (…)
from http://www.independent.ie/health/latest-news/boy-11-leading-revolution-in-stem-cell-surgery-for-children-2286647.html
Pioneering surgery to rebuild an 11-year-old boy's windpipe using his own stem cells has been hailed a success as he prepares to leave hospital.
Ciaran was born with Long Segment Tracheal Stenosis, which leaves sufferers with a very narrow windpipe.
Doctors at Great Ormond Street Hospital in London took stem cells from his bone marrow and injected them into a donor windpipe.
They implanted the organ and allowed the stem cells to transform themselves in his own body (…)
As options for Ciaran ran out, his specialists turned to stem cell treatment.
The surgery had been tried in Spain in 2008 on mother-of-two Claudia Castillo – the first person to receive a transplant organ created from stem cells – but Ciaran was to be the first child (…)
from http://www.bbc.co.uk/news/uk-northern-ireland-10882931
Incoming search terms:
Ciaran Finn-Lynch.