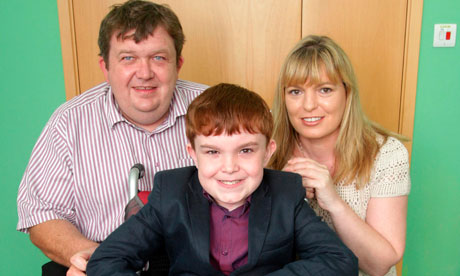 "The tracheal team at Great Ormond Street Hospital is delighted that Ciaran is going home after his tracheal transplant. He is a wonderful boy who has become a great friend to us all, and he and his infinitely patient family have charmed us all. Ciaran has become our local iPad expert, and we will miss his advice. His recovery has been complicated, as one might expect for a new procedure, and we have kept him under close surveillance, hence the length of time he has been here. It is wonderful to see him active, smiling and breathing normally. We are very proud of him!
"Ciaran will continue to need regular follow up by us. This is so we can both make sure he is ok, and also learn what to expect for the next patient who needs this innovative therapy. The treatment offers hope to many whose major airways were previously considered untreatable or irreplaceable. We will continue to work with our colleagues in regenerative medicine throughout the world to ensure we can continue to improve both the science and treatment options."
from http://www.ich.ucl.ac.uk/pressoffice/pressrelease_00852
Incoming search terms:
Ciaran Finn-Lynch.